Welcome Antipolo Real Estate Brokers Buyers & Agents...
...Biado Realty is an accredited real estate broker of Camella Homes and Communities, the country's most preferred housing brand, is a proud member of the Philippines' largest home builder, Vista Land & Lifescapes, Inc. Only Vista Land offers the broadest spectrum of homes, catering to all income levels, spanning the largest geographic reach.
Camella is the first in building homes and communities within the means of average Filipino in the affordable housing segment. Proud of its more than 30-year legacy of pioneering value-for-money homes in master planned communites, Camella has added to its offerings luxury single-family homes and city lifestyle residences close to Makati's business district, with innovatively conceived 2-storey townhomes and low-rise condominiums. All these choice elements come together merged in a mixed-use environment, unprecedented in its design to provide the ultimate level of convenience and comfort for your family.
Your Real Estate Broker:
Elpidio C. Biado

Open House Invitation
Have a quality home and live a quality life in our communities... built especially with your particular needs in mind.
...with better homes and more well designed communities that reflect the changing lifestyles of Filipinos.
Call us before you go there. We will reserve a seat for you & your loved ones.

Tuesday
Posted by

Ely Biado
at 10:15 AM
No comments:

Links to this post
MURANG PABAHAY:
Property Type: Single Firewall
Status: NRFO – for construction
Floor Area: 40 sq. m. (430 sq. ft.)
Min. Lot Area: 80 sq. m. (861 sq. ft.)
Location: La Hacienda 1 at La Montagna Estates, Teresa, Rizal
Features: Single Firewall, 2 Bedrooms, Toilet & Bath, Provision for Service Area.
View Sample Computations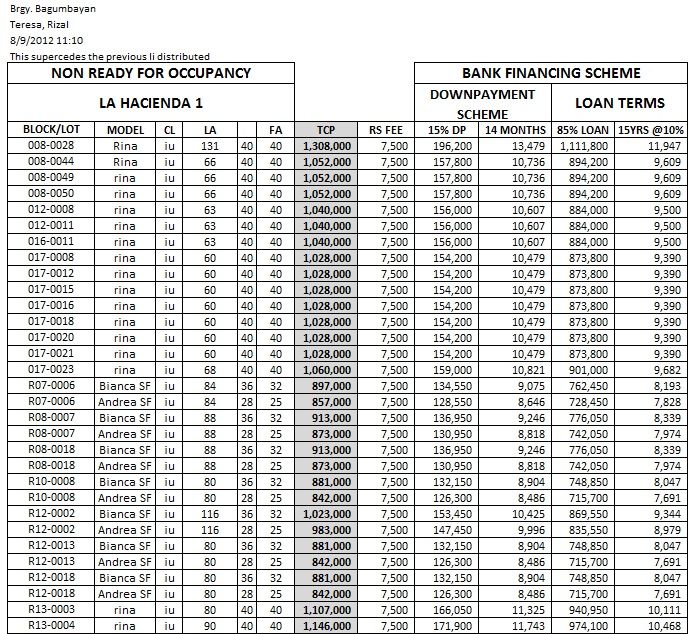 Posted by

Ely Biado
at 5:43 PM
2 comments:

Links to this post
Friday
Lladro
Italian inspired master-planned community with single detached homes.
Lot Area: 180 sqm
Floor Area: 192 sqm
Price Starts at Php
7,900,000.00



Ground Level


- Porch
- Living Area
- Dining and kitchen Areas
- Entertainment Area (convertible to a bedroom)
- Toilet & Bath
- Utility Area
- Maid's Room with toilet & bath
- Lanai (2m x 6m)






Second Level


- Master's Bedroom (with provision for walk-in-closet)
- Bedroom 2
- Bedroom 3
- Master's Toilet & Bath w/ bathtub
- Common Toilet & Bath
- Study Area
- Balcony

Posted by

Ely Biado
at 7:14 AM
1 comment:

Links to this post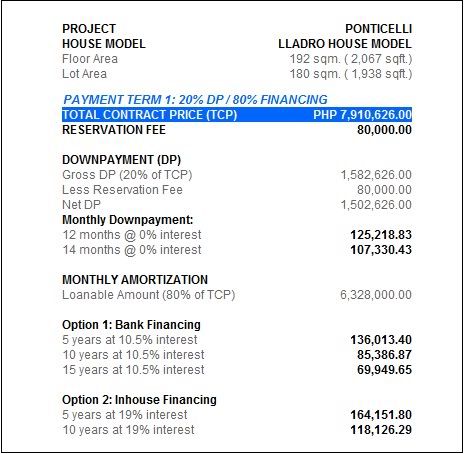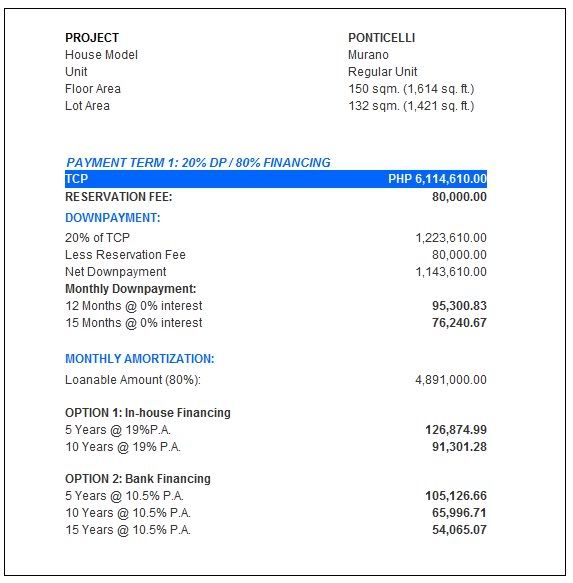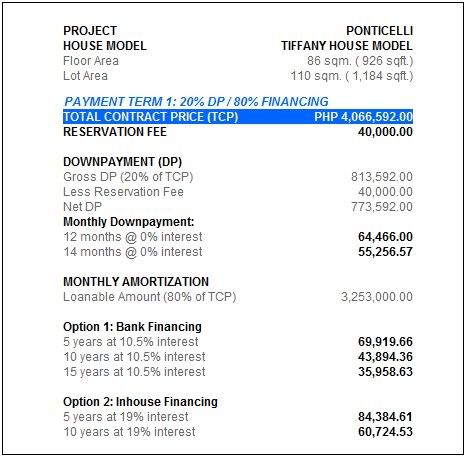 Posted by

Ely Biado
at 7:11 AM
2 comments:

Links to this post